Auto Glass Repairs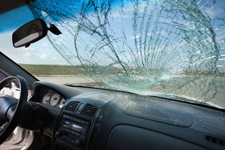 Advance Glass & Mirror in Regina offers vehicle owners comprehensive auto glass services. We make it convenient for you to fix your car. We will get the repair done quickly while you wait in our office. We will also provide rides to work so your daily routine is interrupted as little as possible. Our Regina auto glass services are always accompanied by a free estimate. We swiftly handle all SGI and other insurance company claims, with a lifetime warranty on all installations.
Windshield Repair & Replacement
A cracked or shattered windshield is not only unattractive and leaves your car subject to the elements, it's also dangerous. When you need your windshield fixed in a hurry, bring your car in to Advance Glass & Mirror. For minor cracks or chips, we can usually repair the existing windshield; for more major cracks or shattered glass, a replacement should be made immediately. Our expert installers will find the glass thickness and size required for your vehicle so you can get back to driving as soon as possible.
Side & Rear Windows
After a break-in or accident, it's common for side and rear car windows to get cracked or broken. Our auto glass repair shop has new and used glass to fit any make and model vehicle. We install with precision and efficiency to get you back on the road safely and comfortably.