Home & Commercial Upgrades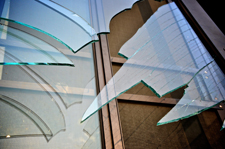 At Advance Glass & Mirror, we work with home owners who have experienced damage to their home's glass from a storm, break-in, or simple mishap. We replace the glass, hardware and hinges in your existing frame for those who are wanting to upgrade to higher efficiency, more modern looking windows. Our residential glass company in Regina can install any other type of residential and commercial glass as well.
For every home and commercial installation, we offer free estimates and a lifetime warranty on our installation work. We also work with home owners' insurance claims.
Residential Window Repair
If your windows have been cracked, chipped, or shattered after a storm, break-in, or other incident, we can help. Advance Glass & Mirror employs a team of residential window repair specialists to fix or replace any type of window, from small basement windows to large bay windows. We also repair screen and sliding glass doors, custom cutting the glass to size. Need a new bathroom window? Our Regina glass repair shop has frosted glass available.
Tabletops
Coffee, patio, and dining room tables with glass tabletops make beautiful additions to your home's décor. If the glass cracks or shatters, it can be tough to replace a one-of-a-kind piece, but with our tabletop glass repairs, you won't have to. We'll find the right glass size, tint, and texture to fit your home's furniture, restoring it to look as good as new.
Plexiglass
We also work with plexiglass and have sheets available to order. Often used in window panes, enclosures, shelves, and garden greenhouses, we have what you need to repair or complete these areas of your home.
Fireplace Glass
Our professional glass installers provide fireplace glass of any size to replace or improve this area of your fireplace.
Safety Glass
For optimal security and protection from extreme weather, safety glass from Advance Glass & Mirror is an ideal solution. Made with additional strength and safety features, these glass products are shatter- resistant and come in designs such as tempered, laminated, and wire mesh glass.
Storefront & Commercial Windows
Advance Glass & Mirror also works with commercial properties to install any of these types of glass as they apply, along with specialty storefront glass. We install, repair, and replace glass for store fronts, restaurants, office buildings, and more.